About Hare Krishna Movement
The Hare Krishna Movement Mumbai (HKM Mumbai) is a spiritual organization that aims to gift human society an opportunity for a life of happiness, good health, peace of mind and all good qualities through God Consciousness.
Registered as a trust in 2010, it is spiritually mentored by ISKCON Bangalore. In accordance with the desire of His Divine Grace A.C. Bhaktivedanta Swami Srila Prabhupada, Founder-Acharya of the worldwide Hare Krishna Movement, who wished "to organize Bombay as world headquarters from every point of view, culturally, scientifically, and philosophically". Following in the footsteps of Srila Prabhupada, the devotees at HKM Mumbai conduct their activities based on the teachings of the Bhagavad Gita and the Vedas.
Free sessions on the Bhagavad Gita:
With an active presence in Mumbai since 2015, HKM Mumbai organizes life-changing sessions in and around Mumbai for the welfare of all.
Scores of people have benefited from these sessions, their lives transformed. Thousands of agitated minds have become tranquil, receiving direction and solace; anxiety and stress have been replaced by peace and happiness, while anger and frustration have been supplanted by contentment and satiation. HKM Mumbai helps them receive precise, practical guidance from the Bhagavad Gita so that they don't just GO through life, but GROW through it.
Anna-daan (Free food distribution):
HKM Mumbai is dedicated to changing the devastating statistics on world hunger and fulfilling the desire of Srila Prabhupada that no one within a ten mile radius of his center should go hungry. To achieve this goal, the Hare Krishna Movement provides free food every day to marginalised sections of society through its Akshaya Chaitanya initiative in Mumbai.
Yatras:
Every month, HKM Mumbai organises spiritual yatras, or trips, to various holy places around India. It fuels one's spiritual awakening and connects one deeply with Indian culture and heritage, as well as bringing closer to the divine.
Being present in God's own abode, hearing about His pastimes and visiting the very same spots, in the company of devotees, is indeed an enlivening and indelible experience! Enchanting Kathas, esctatic Kirtans, lip-smacking prasadam enrich the whole experience even more.
Indian Culture and Values for Kids (ICVK):
For children, weekend programs called "Indian Culture and Values for Kids" (ICVK) are conducted to introduce young children to the Vedic value system in an esoteric, interactive way for the age group of 4-14 years.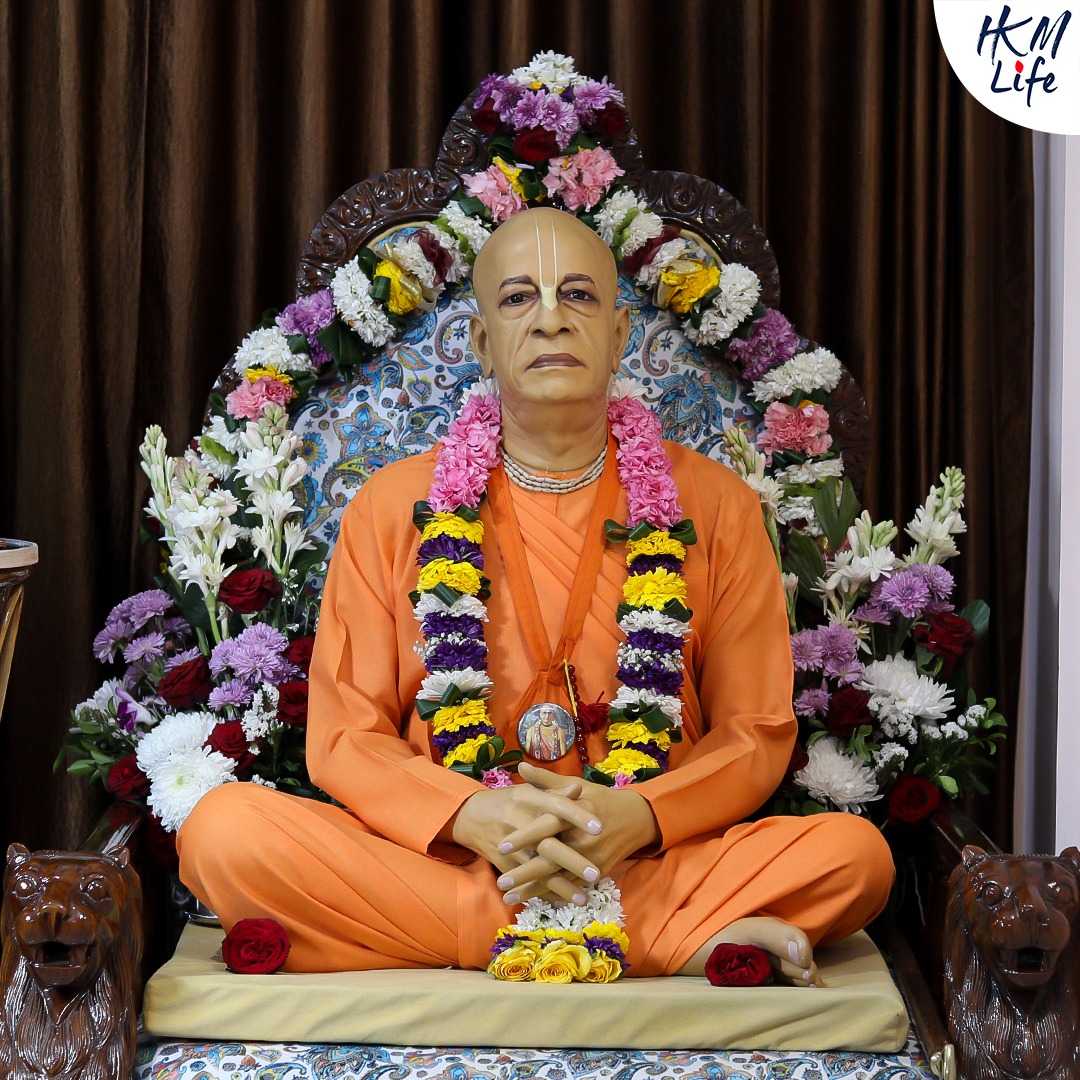 Humble dedication
His Divine Grace Srila Prabhupada
His Divine Grace Srila Prabhupada is the Acharya or Diksha Guru of the Hare Krishna Movement. He worked relentlessly to impart knowledge, enlighten minds and establish the Hare Krishna movement globally. Srila Prabhupada lived a truly inspirational life and is a phenomenal role model for anyone who seeks to bring about transformation in any field of work. As a 70-year-old, Srila Prabhupada travelled to New York with the sole purpose of fulfilling his guru's dream of spreading the message of Krishna Consciousness all over the world. Starting his work from a tiny office in New York, he went on to ignite a worldwide phenomenon, now known as the Hare Krishna Movement.
Know more